Leadership lessons for Start-ups & Budding Entrepreneurs
Session Brief:
An idea is a seed that needs a strong & competent leader to nurture it. Dr. Ankush Sharma will be taking this session on leadership lessons for start-ups & budding entrepreneurs to impart his experience on what role does effective leadership play in the success of a venture.
Brief profile of Dr. Ankush Sharma: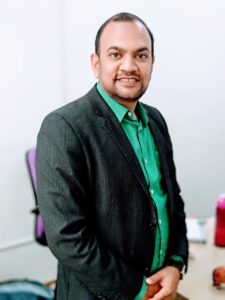 Dr. Ankush Sharma is B.E. ( Industrial and Production) ( S.G.S.I.T.S Indore ) , Post Graduate ( Management ) Ph. D ( Management ) . Dr. Ankush has close to two decades experience in the field of Marketing and Leadership. He has worked major part of his corporate and Academic Life in Mumbai and have Leadership Roles in Various Capacities like Chief Operating Officer and Head – Management at reputed Institutes at Mumbai. He has served at IIM Ahmedabad for two years from 2005 – 2006 in the capacity of Academic Associate. He was a panel member to select students for 8 IIMs. He has conducted Leadership Training Modules at Corporates like IOCL, Indian Railways and other reputed Institute. He has a keen interest in sports and his leadership modules and Learning from sports is appreciated by various corporate houses. His Area of Interest is Marketing, Leadership and Particularly Sports Management .He is currently working at JLU, in the capacity of faculty, teaching modules on marketing and related fields.
Event Schedule:
03:00 P.M.–05:00 P.M  :  Leadership lessons for Start-ups & budding entrepreneurs