B-Nest identifies and selects start-ups majorly in three ways:
Hackathons
Events conducted at B-Nest
Online Application
The selection of start-ups via Hackathons and Events are completely B-Nest authority dependent and varies from event to event.
The online applications received are screened once every month.
The following steps are followed post receiving any application: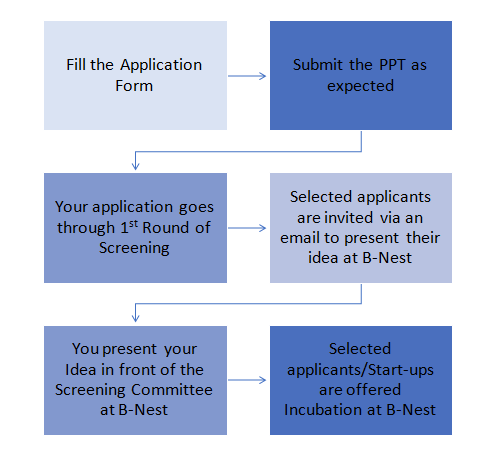 What is an Ideation Phase Start-up?
If you have just begun your journey and need guidance and support to give shape to your ideas, you are in the Ideation or the Idea Validation Phase.
Ideation is the creative process of generating, developing, and communicating new ideas, where an idea is understood as a basic element of thought that can be either visual, concrete, or abstract. Ideation comprises all stages of a thought cycle, from innovation, to development, to actualization. Ideation can be conducted by individuals, organizations, or crowds. All the start-ups begin with this stage. The start-ups keep brainstorming different aspects of the business.
What is an Early Traction Phase Start-up?
If you have a product or a service, you have made a few sales and want to boost your sales then you are in the Early Traction Phase.
Early traction simply refers to the first wave of users. Those early adopters are crucial. The reason is that although they haven't heard anything about the start-up, they still purchased the product/service. That means that they saw value in the product/service and also as a solution to their problem. Having early traction is a sign that people want to use the product/service offered by the start-up and also acts as an insurance for VCs and their investment. A start-up with a good early-traction attracts more VCs and investors.
What is a Growth Phase Start-up?
If your business is in such a stage where you have significant cash flows and now you want to expand your business further then you are in the Growth Phase.
This phase is characterised by growth into new markets and distribution channels. Companies in the growth phase need big amount of funds to expand. Also the entrepreneurs no longer have to poke their nose into smaller matters since there are people assigned to take up different problems. Every company at this phase tries to capitalise on newer possibilities and ventures. Business at this stage is marked by rapid growth in revenue and cash flow. The hours of hard work and late night assignments have finally paid off and now the entrepreneurs reap the benefits.
Expected Content of the PPT
Registration for the current batch is closed for now. We will be opening the link soon for the fresh batch of applications.